The appeal and appearance of your property, especially your customers' first impression of your business, all help to drive the success of your business. The creation and maintenance of a quality landscape isn't a simple line-item cost or expense to your business. It's an important investment in your business' success and profitability that is a reflection of the care and consideration you put into your business.
High Quality Landscape Services is an experienced, full-service commercial landscaping contractor. We have served Dallas and North Texas businesses with sustainable and professional landscaping programs since 1973. We are one of Dallas' oldest and most trusted landscape service firms, and we set the standard in high quality landscapes and professional services. We perform landscape maintenance, landscape upgrades, stonework and hardscaping construction projects, tree care, irrigation services, and chemical services including fertilization, pest control and weed control.
Our customers include retail centers, residential communities, multi-family housing, educational facilities, manufacturing and commercial facilities, office complexes and hospitality facilities. Whatever your business, we are here to serve you in your goal of providing a pleasing environment and a positive customer experience to help you make your business a success.
We are dedicated to creating beautiful landscapes and providing you with exceptional service. Call on us today to experience the High Quality advantage
---
Unparalleled Commercial Landscape Services in Dallas, TX
If you are looking for a high quality landscape service in Dallas, TX, you have come to the right place. We are one of the leading commercial landscaping companies serving Dallas, offering a wide range of commercial services in landscape installation, landscape construction, and lawn care. We serve Dallas and its surrounding cities. Our service areas including Plano, Allen, Richardson, Farmers Branch, Addison, Highland Park, and Park Cities. Our team of experienced landscape construction professionals is dedicated to providing you with the highest quality services for all of your commercial landscaping needs. With decades of combined experience in the industry, our team members are well-versed in the latest trends and technologies in landscape installation and lawn care. Contact us today to find out more about our high quality services and how we can serve you.
Comprehensive Landscaping Services for Commercial Properties
We are your premier full-service landscape company offering comprehensive landscaping services for commercial properties located in Dallas, Ft. Worth, Plano, Preston Hollow, University Park, Highland Park, Park Cities, and the surrounding communities. Our professional team of landscapers specialize in landscape lighting, landscape installation, tree pruning, irrigation services, sprinkler system installation and repairs, stonework and hardscaping, and lawn care services to create beautiful, functional outdoor spaces for our commercial clients.
Superior Customer Service and Landscape Enhancements
At our family-owned business, we focus on providing our commercial landscape customers with excellent job results and superior customer service. We strive to exceed our client's expectations with our comprehensive commercial landscaping services, including installation services, lawn maintenance, and water management. Plus, we offer additional landscape enhancements, such as artificial turf, lighting, and more, to create a beautiful outdoor space for businesses.
Reliable Source for Commercial Landscaping in Dallas Area
We have been proudly serving the Dallas area for many years and are proud to be a reliable source for commercial landscaping services in the Preston Hollow, Farmers Branch, and Fort Worth areas. Our experienced team of landscapers ensures that each project we take on is completed with the highest quality materials and professionalism so that commercial locations can have beautiful, functional landscape construction for their business.
Professional Commercial Landscaping Services in Dallas
High Quality Landscape Services provides superior services for commercial landscaping in Dallas, Texas, Plano, and surrounding areas. Our experienced team offers landscape design, landscape construction, lawn maintenance, and installation services. We take pride in our reputation as a reliable and professional vendor of commercial property services in Texas. Our clients can always rely on our expertise and equipment to get the job done.
Comprehensive Landscaping Solutions in Dallas and Plano
At High Quality Landscape Services, we specialize in providing comprehensive services for landscaping projects for our clients in Dallas, TX. Our team of experienced professionals provides the highest quality of service for landscape design, lawn maintenance, installation, and lighting. We take pride in our commitment to excellence and strive to exceed the expectations of our customers.
Expert Commercial Landscaping Services for DFW Businesses, Country Clubs, Golf Courses and more.
We are a leading provider of commercial landscaping services in Dallas, TX. Our team of highly skilled professionals is committed to providing the highest quality of service for all types of landscaping projects. From landscape design and installation to lawn maintenance and lighting, our team has the expertise and equipment to get the job done. If you are interested in learning more about our services, please do not hesitate to contact us and request a free quote.
Vertical Gardens and Living Walls
We offer vertical garden design, installation, and maintenance services to businesses in DFW. Vertical gardens can provide a pleasant and calming atmosphere for employees, reducing stress and improving morale.
Additionally, it can act as a natural air filter, reducing air pollution, and improving air quality in the building. Having a vertical garden can help to reduce energy costs by providing natural insulation, thus making the building more energy efficient.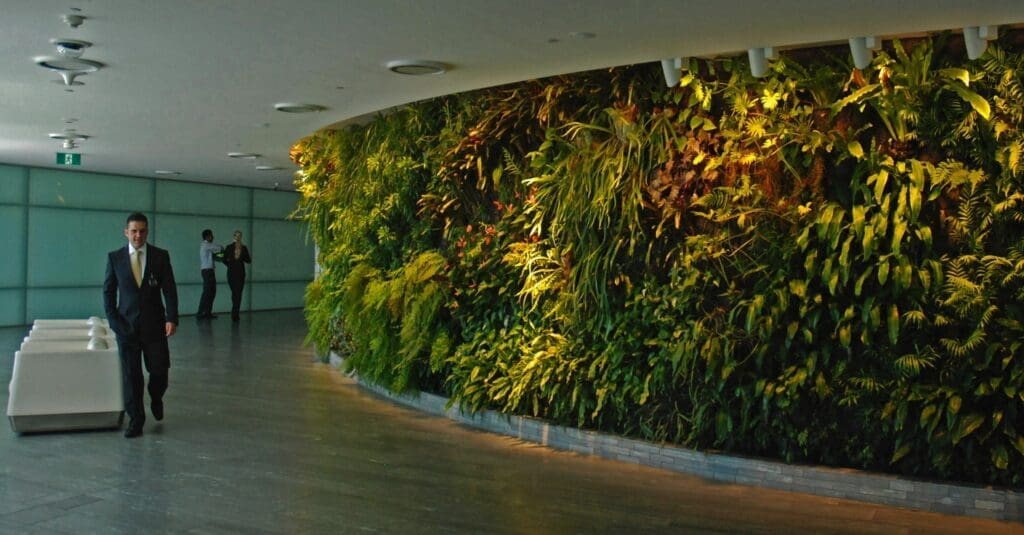 Green Billboards
Vertical gardens can be arranged into any shape, logo or design style you could imagine. Businesses could have their logo or phone number made into an eye-catching advertisement made of plants. We are the only landscaping company in DFW offering Green Billboards. Attract more customers and gain brand awareness with an advertisement made of plants.
Check out our service areas and call High-Quality Landscape Services today.
Irrigation Management
In our current environment of water restrictions, diminishing resources, and rising costs, an efficient and well maintained irrigation system is a critical element to an effective landscape management plan. High Quality Landscape Services can provide for all of your irrigation needs, including system design, installation and regular maintenance. High-tech systems installed and maintained by our trained technicians will keep your landscape lush and flourishing while reducing the impact to our environment.
View Irrigation Management