Primetime for fall colors is coming up. Beginning in mid-October, we started to see yellow, orange and red shades of autumn leaves. And we'll also start to see more leaves and branches on the ground coming into the winter months.
Leaf piles can be fun for kids to play in. They can also be inconvenient and a bit of a hassle, creating conditions for disease and mold on your lawn.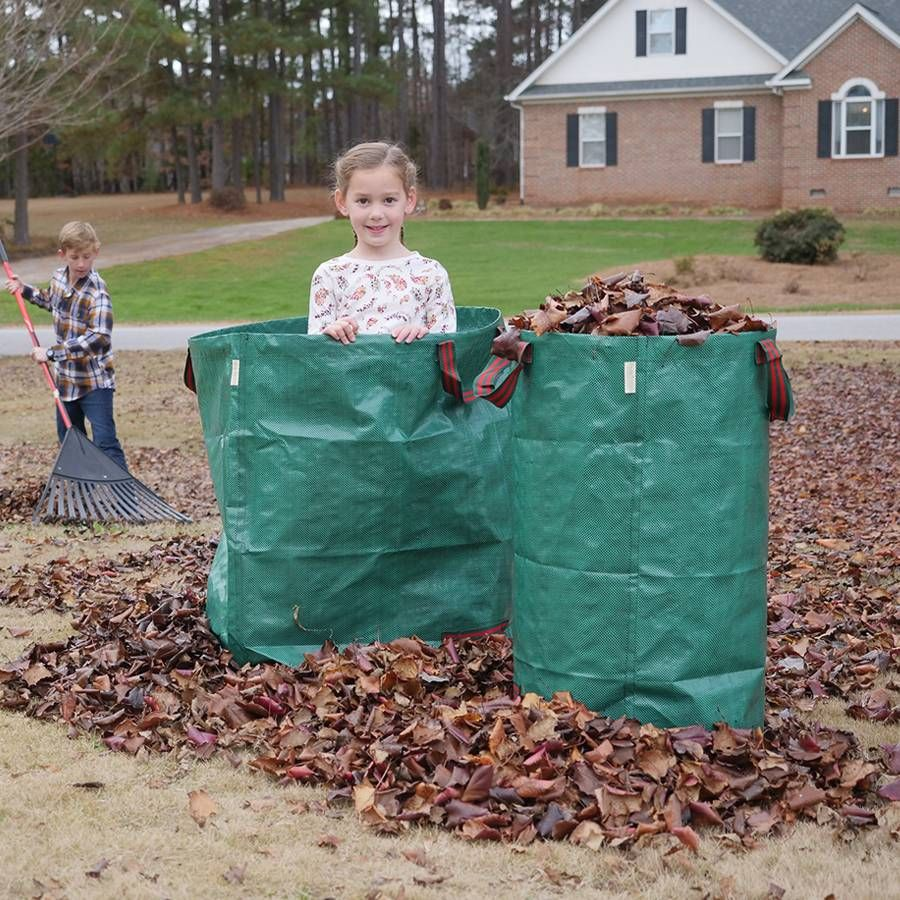 This article will serve as a short guide to leaf removal services in Dallas, including cost, tips, and other professional service information you might be looking for.
We want to provide information about why it's important to not let leaves sit or pile up for long on your lawn. And we also want to provide all the information you need about booking a leaf clean-up service with High Quality Landscape Services.
To get your leaves removed and lawn maintained, give us a call today for a free quote and easy booking.
For more leaf pick-up information, service insights and tips, continue reading.
What happens if I don't rake leaves?
Dallas is lucky to have beautiful fall colors. But this nice feeling can quickly wear off. Once the leaves start to get mushy and slippery and start covering the lawn, the driveway, and the pools, they become more of a visual nuisance. They can also create massive inconveniences like lawn disease, mold, and mosquitoes.
Letting leaves sit for too long can lead to:
Lawn disease
Mold
Mosquitoes
Visual nuisance
Slippery/unsafe ground
Why is leaf removal important?
Leaf removal can be crucial in maintaining your lawn's health in autumn as well as the preparations for the winter.
If the lawn is suffocated by leaves, grass could die off.
Leaf litter reduces moisture in your environment by blocking the flow of water.
Decomposing leaves can attract mosquitoes.
When should you clean up leaves?
Generally speaking, you should not put a leaf under the soil for a minimum of three or four days. You may have to adjust the calculation if the weather is dry or the leaf shed pattern is heavy.
You should remove leaves from the lawn once tree leaves are covering more than 10-20% of the lawn.
Below you can see a picture of what it looks like when more than 10-20% of the turfgrass yard is covered in fall leaves. The best option, in this case, would be removal.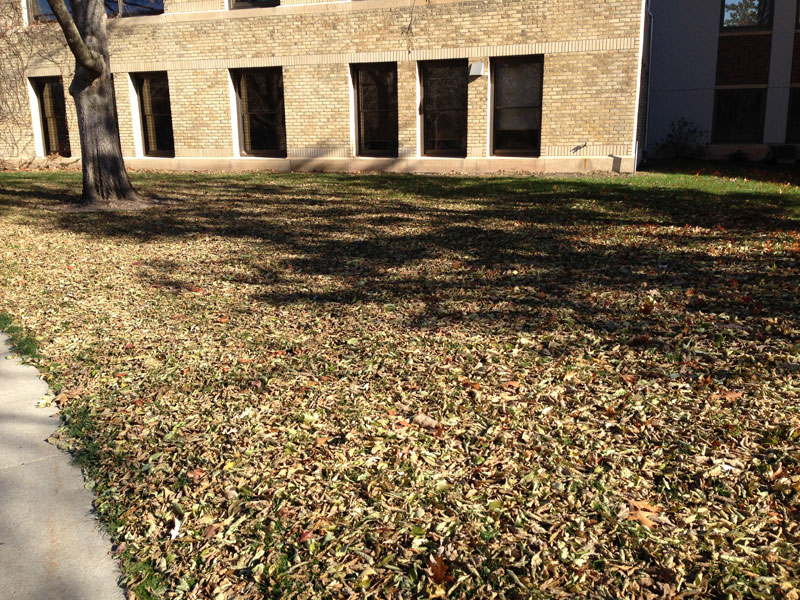 And in the image below, you can see an acceptable level of fall leaves on the lawn. A good option would be to mulch the leaves with a mower.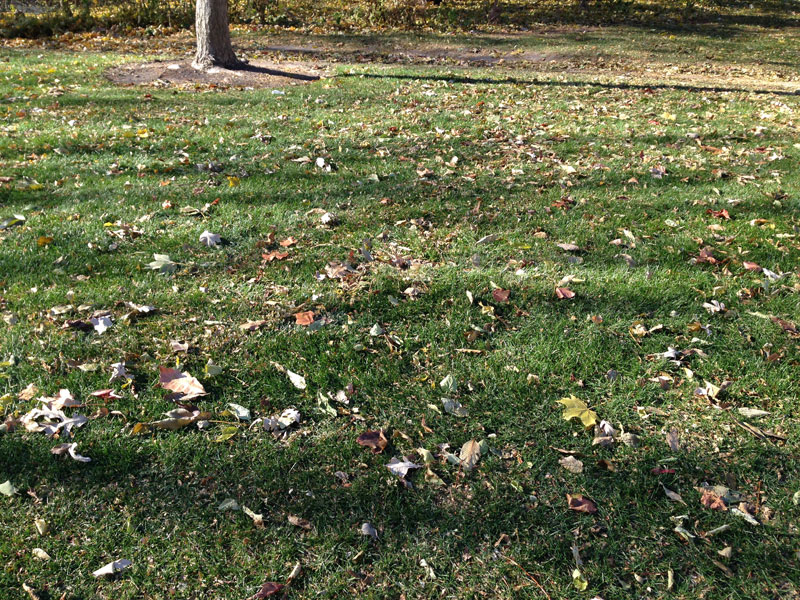 Mulching the leaves is essentially chopping them into small pieces so they will incorporate into the grass canopy. The organic matter can provide beneficial nutrients for the lawn and soil.
Some types of leaves, like maple, can reduce the termination of weed seeds. Other tree types, like legumes, can add nitrogen to lawns.
Do I have to rake leaves?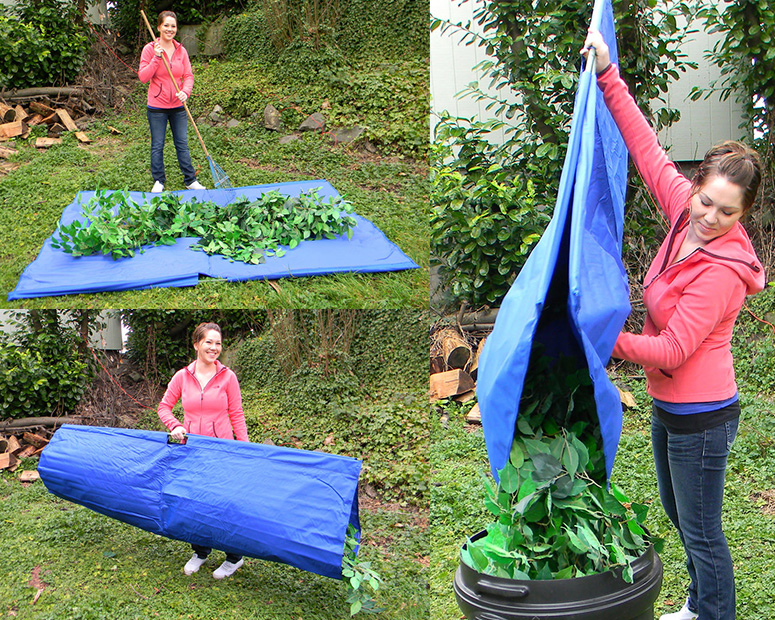 The real answer is NO. But there is a catch. Excess leaves on your lawn can quickly kill the grass beneath them. When leaves build up in an area for too long, they inhibit water evaporation, block sunlight, and inhibit growth.
These are bad conditions for your lawn. Leaf buildup makes lawn disease and mold growth more likely. Diseases and mold will weaken and kill your lawn.
That's why during the fall, it's important to keep your yard clean by removing leaves to ensure your lawn's longterm health.
You don't have to do it yourself.
You can hire a professional leaf-cleaning service provider for a healthy lawn at a low cost.
How to Book Leaf Cleanup Near Me
Call High Quality Landscape Services.
Recieve your free estimates.
Schedule and finalize your booking over the phone.
And you're done!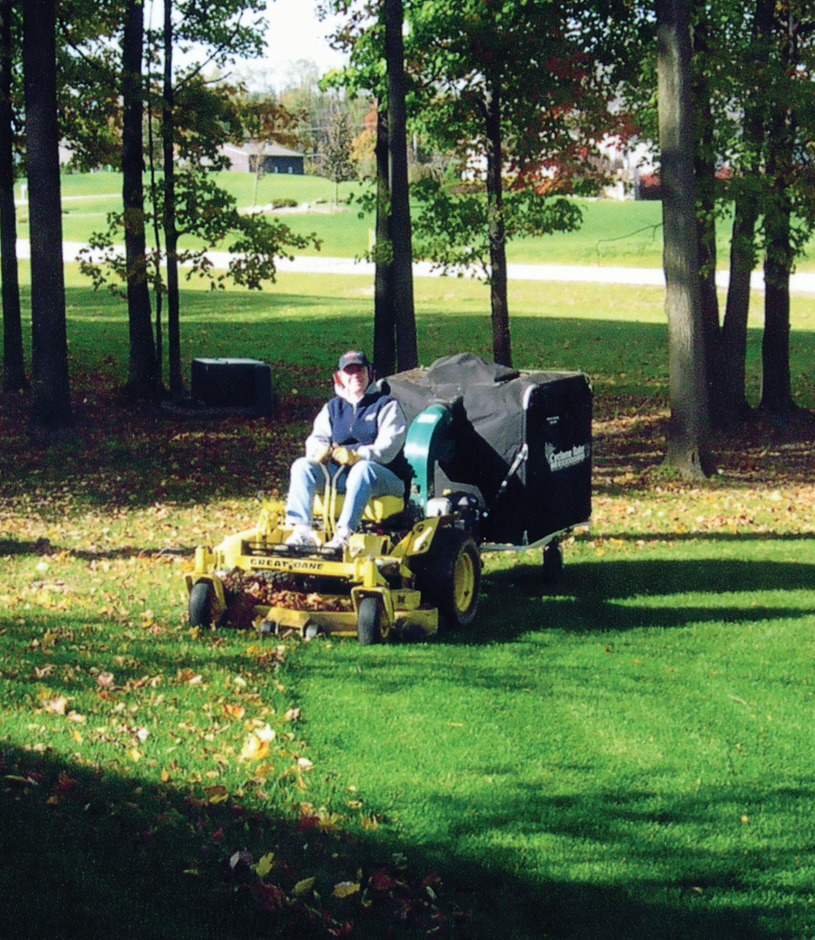 Our service team will handle and sort out any details to ensure we complete your cleanup to perfection. Our landscaping professionals will show up and provide clean up services.
We can bag up your leaves and dispose of them, or transform them into mulch you can use later for your lawn.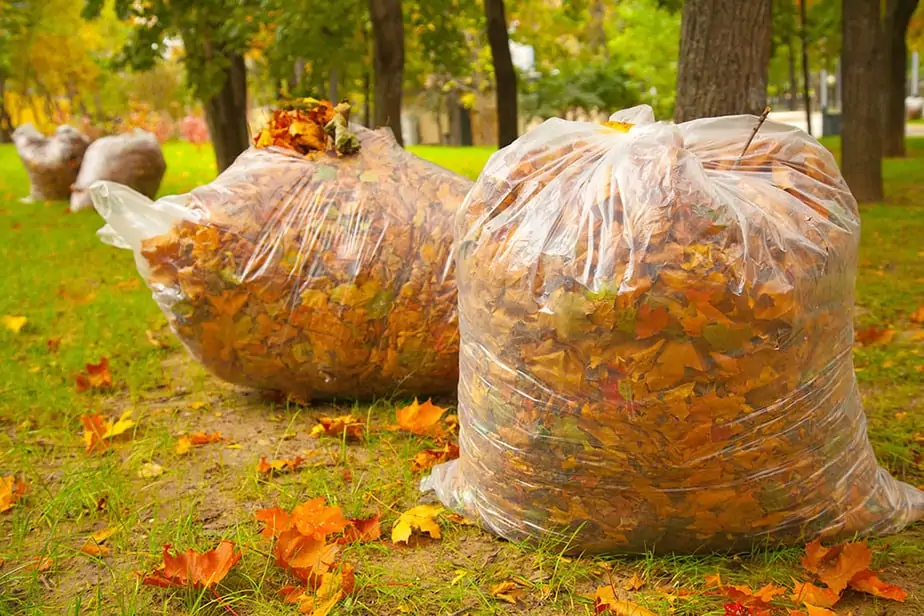 Leaf Removal Services
Leaf removal can be tough and time-consuming, and leaf removal equipment can be expensive.
The most cost-efficient and time-efficient solution is hiring a lawn care company, that can do it in less time, while also ensuring the health of your lawn.
Leaf removal experts have professional-grade tools and knowledge of which are best for your specific landscaping needs. There is no one-size-fits-all method for leaf cleanup and debris removal because each yard will call for its unique care. For example, sometimes it's more appropriate to skip the leaf blower, and use a rake to ensure the health of the lawn.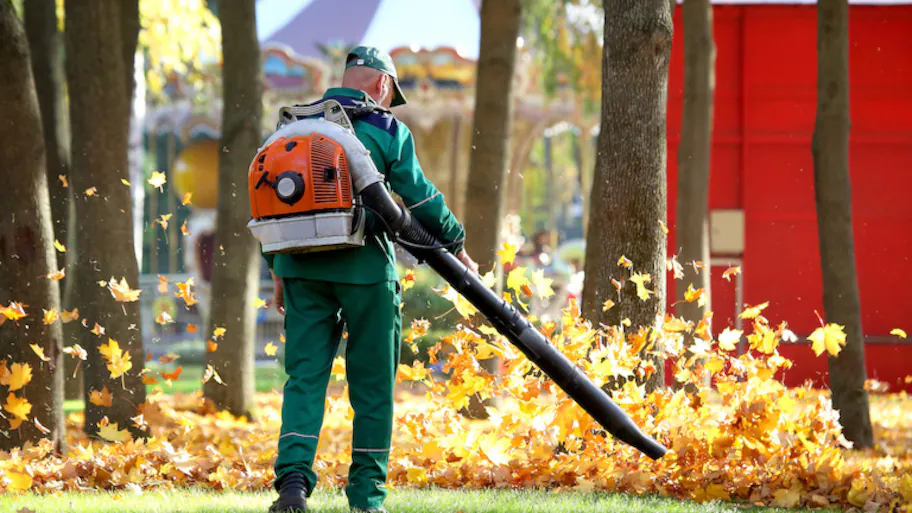 Leaves will be bagged, so you can either dispose of them, or turn them into compost mulch to use for your grass and plants.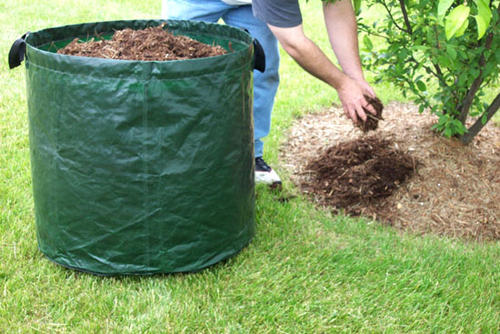 Cost of Leaf Removal Services
Local pricing for leaf removal in Dallas and North Texas is will vary by company, project scope and lawn size.
The average cost of leaf cleanup for many homeowners ranges between $150-$350.
Many homeowners opt to hire leaf removal companies that can also provide lawn service and cater to other landscaping needs. Adding on services will alter cost.
Save Money, Time and Energy
Hiring professional landscapers for leaf removal provides a lot of ease and convenience. You could solve a lot of problems at once– leaf cleanup, lawn maintenance, plant and garden maintenance, preparing your landscape for the winter and preparing for the future by using the leaves as filler for mulch.
Local Leaf Removal Service
High Quality Landscape Services provides leaf cleanup services for DFW. We also provide pool clean-up, and we cater to all other landscaping needs. When you hire us, you receive lawn care services, improvements to the aesthetics of your home, and double the value you would from hiring companies that don't offer pool maintenance.
Full-Service Leaf Removal
High Quality Landscape Services will clean up this debris and compost it or bag it for you. Leaves, branches, and sticks can fall on your flower beds and might also require cleanup.
Your lawn care service will clean your beds so your flowers, shrubs and trees can breathe again. At the same time, your lawn service will divide and transplant perennials, as well as pull weeds and tree sprouts. Get your yard cleaned from all the winter debris or keep those falling leaves under control.
Additional Lawn Care Services
Aside from leaf removal service, some of our other landscaping and lawn care services offered year-round are lawn mowing, tree trimming, hedge trimming, lawn fertilization, lawn aeration, weed control, gutter cleaning and sod installation for residential and commercial properties.
Leaf Clean-Up Tips
What's the best way to clean up leaves from the yard?
Bring your blowers and start from the far left edge of your yard. Start slapping out the foliage onto the tarp at its edges. If you blow the leaves into a tarp, it would take less than an hour for the clippings to be cleaned.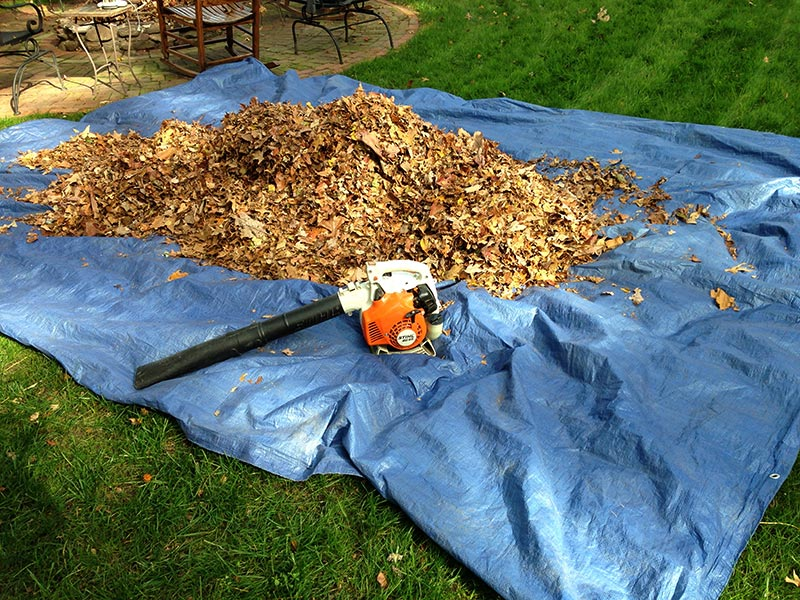 How do I get rid of leaves on my driveway?
Using a power broom or combination vacuum can clear a lawn much more effectively. Hand-held blowers with batteries, electric motors, or gasoline engines are helpful to clean paving surfaces and grass at high speed in broad sweeps.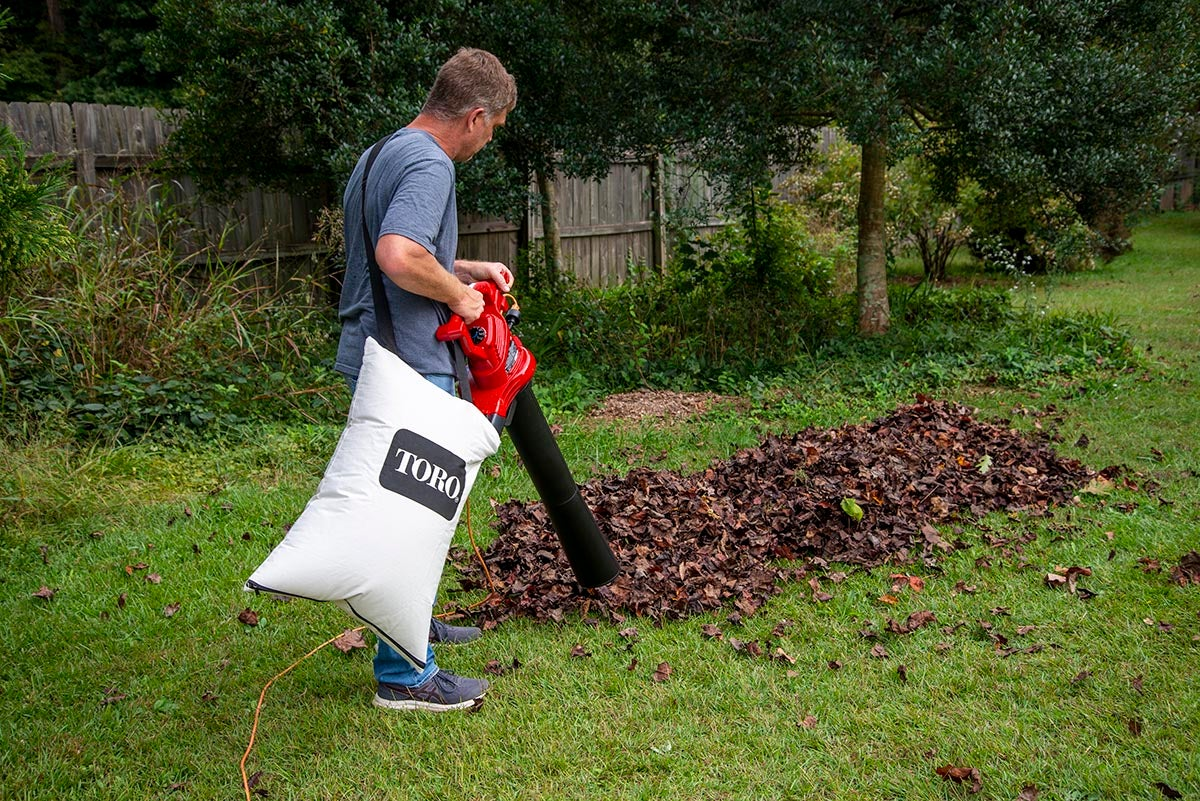 How do I find the best professionals for my property?
Before you decide who to hire, make sure to work with a company you trust.
Look for companies located in your city or who cater to your zip code.
Call two or three landscaping companies and ask for a free estimate. Consider what services you need, what additional yard work you might want, and proximity to your home. This will all factor into the cost.
Compare quotes and schedule your service.
Conclusion
In this article, we've gone over information about leaf cleanup, leaf pickup, and leaf removal in Dallas, Plano, Richardson, and other cities in North Texas.
It can be fun for kids to play in the piles of fallen leaves. It's important to remove them before they can lead to lawn disease, mold, or mosquitoes.
At High Quality Landscape Services, we are lawn care professionals equipped with the tools and knowledge to provide the best services to our customers.
We provide leaf removal service and yard cleanup, lawn mowing, tree trimming, and all other landscaping services.
Leaf Removal Near Me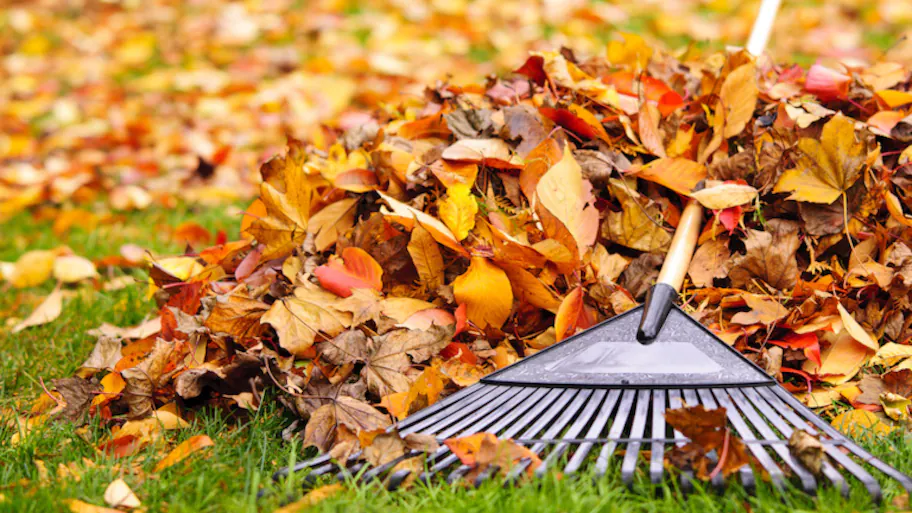 Contact High Quality Landscape Services today.
Service Areas
Dallas │ Richardson │ Highland Park │ Addison │ Farmers Branch │ Plano │ Allen │ Frisco