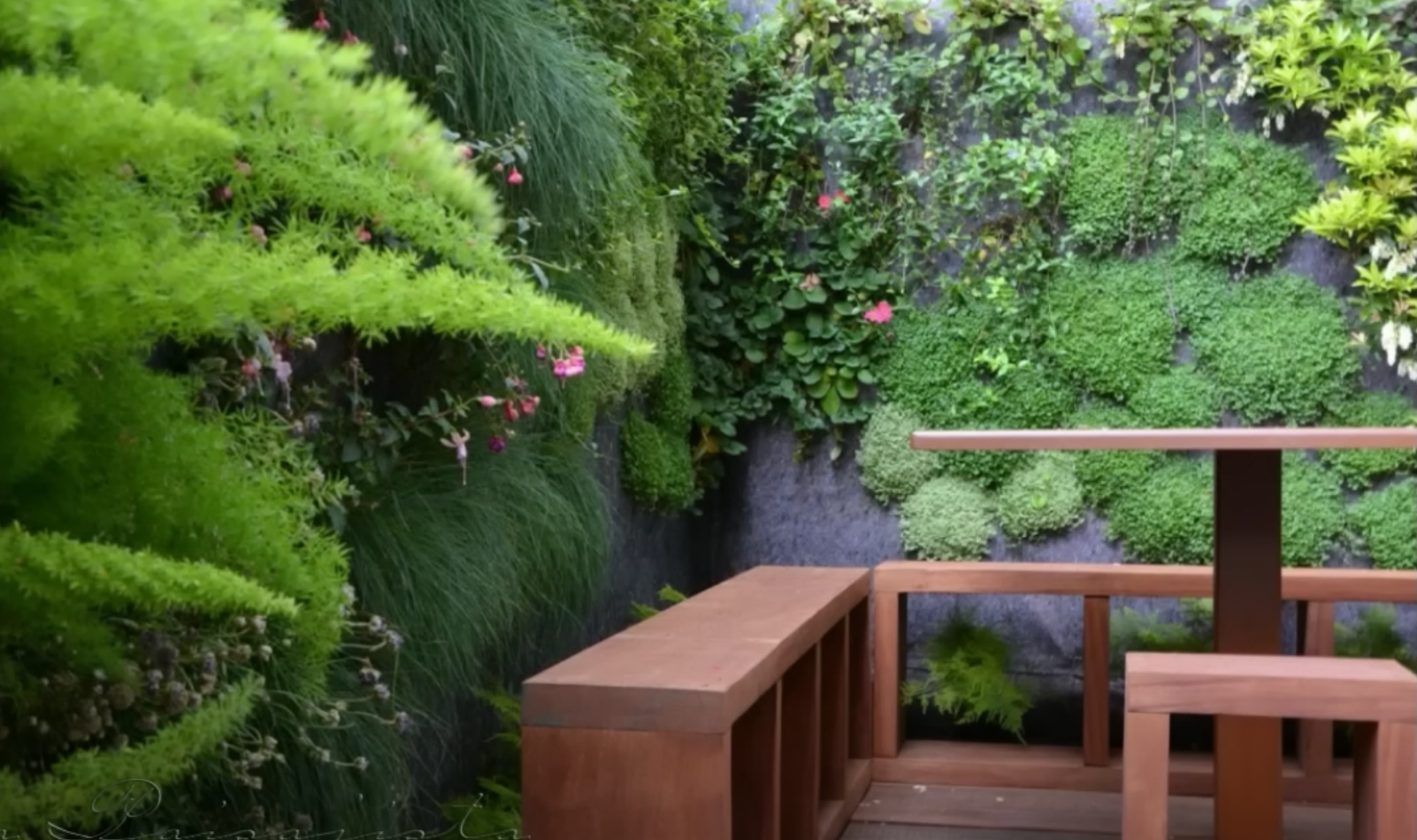 Vertical Garden Ideas.
And a list of the BEST plants for vertical gardens.
Creating living walls is both an art and a science.
There are an infinite amount of designs and ways to set up a vertical garden.
The only limit is your creativity.
What is a vertical garden?
Also known as vegetal wall or green wall, a vertical garden is a garden growing vertically, usually along a wall, upright module, or hanging plant box.
Some walls are just walls covered in climbing shrubs, but other systems are modular, which allows plants to grow inside homes and buildings. It's common to see these gardens in small indoor areas, as centerpiece wall art, or fences in outdoor urban areas.
Vertical gardens range from basic container gardening based on recycled materials to using hydroponic technology for growing and harvesting.
Vertical gardening is a diverse area of practice. Practically all plants you can grow in a pot can grow in a vertical garden. Though different plants can be better for different conditions, designs and structures.
These projects can be considered living artworks.
High-Quality Fence Garden
While there are quick and cheap variations of verticle gardens that use shelving or stacking, of vertical garden pots, hanging pots and hanging baskets, we want to make you aware of higher-quality options that might require sturdier structures, more love, and more creativity to execute.
A high quality vertical garden needs a solid and well-made base. You will also need to install PVC pipes for automatic and efficient watering for most discrete watering, with specific layering of fabric panels between each component of the vertical wall module.
We also want to suggest the best plants – different species than just your basic succuluetns, that can thrive in most climates, but especially in proper conitions. These might require more frequent watering, good growing space with fertile soil or substrate nourished with organic matter.
Choosing Vertical Garden Plants
You have to adjust to what plants are available in your area and what is appropriate to the season and climate.
We also have to consider the sun exposure on each wall to select what types of plants are best suited in different areas of your vertical garden.
Plants should also have a bit of a "hanging" effect since that's the look we are going for in a vertical garden.
We are also looking for volume, texture, and different tones of green. Ideally, we want the garden to look great year-round.
For walls with not much light, it's good to add colorful plants that like shade.
For walls with a lot of sunlight, you can use darker plants that like thrive in full sun.
It can be fun to play with colors and combinations of vining plants in each section of your vertical garden.
You can refer to the list provided toward the end of this article that will provide examples of some of the best plants to use for your vertical gardening project.
Vertical Garden Design Ideas
We'll cover 4 different methods of vertical gardening. We'll break down suggestions for how the setup works and provide links for video reference.
Your garden can be as functional as it can be ornamental. It can be cheap or more of an investment. Either way, you can achieve high-quality results.
What's important is knowing what your needs are, and then matching that to your wants.
The four types of designs we'll break down are:
Outdoor plant pocket vertical garden
This is a good example of a vertical plant pocket wall garden. This option is lightweight. Easy to install.
It is one of thee simplest and most affordable options for covering a wall with greenery while still looking pleasing and elegant.
Plant pocket panels are best suited for outdoors, since this style of vertical garden does not have an in-built watering mechanism and will require watering with a hose.
The plant pocket panels are drilled into the wall. The pockets are then stuffed with soil and various plants. Some of the plants featured in this example are:
Ameliae
Ferns
Pothos
Philodendron
Succulents
Outdoor vertical garden with a built-in watering system
This is a beautiful outdoor patio design in Spain. This was previously a dull, cold, sad space of only 16sq mt. The designer transformed it into an urban oasis. The living walls brought color, freshness, and vibrance to a small urban space.
The designer accomplished this by covering the fence with a vertical garden.
"This will purify and oxygenize the patio. And there's nothing more lovely than a vertical garden across a fence," said the designer as she walked us through the changes she made.
In this example, panels are attached to the fence to serve as the base. The pipes are placed between two supported fabric sheets, one of them receives water directly from the pipes and provides water to the substrate. The outer layer of fabric is where the incisions can be made to form pockets into which you can stuff the soil, substrate, and plants to your liking.
In place of soil, she recommends using a special substrate. The substrate is able to hold 20 times its weight in water, providing nourishment and proper conditions for each plant on the wall without overwatering or waste.
It is a complete garden that satisfies all 5 senses, including a mix of ornamental plants and edible herbs like mint.
The designer emphasized the importance of knowing what to do with every square inch of space you have and making the most of it. This allows you to see your patio as a space you can change for the better, into one more space to enjoy.
Indoor vertical garden box planter
This video gives DIY instructions to create a living wall. The video is a step-by-step guide on how to make a vertical frame garden planter, also known as vertical garden containers or garden window boxes.
The planter is essentially a framed "box" that will contain all necessary piping, soil, wood, and fabric elements to hold flowers in place.
In this specific design, the soil and pipes are inside the box, covered by black fabric, and a wood lattice.
They make a small incision with a razor in each opening of the lattice, into which flowers will be planted.
The way this frame is constructed requires the garden to lay horizontally on the ground or other flat surface for 3 weeks. This will allow for the soil to settle and the roots to take hold. After the 3-week mark, the garden box can be flipped vertically or hung onto a wall.
When selecting flowers for this type of design, they suggest flowers with shorter stems, so that when the frame is flipped vertically, the flowers will hold in place and not be weighed down or look droopy.
Indoor sub-irrigated green wall
In this video, a homeowner with quite a green thumb talks about her experience having an interior green wall installed by a professional in her condo. She walks us through how it's put together, how the irrigation works, and what plants do the best.
One thing that's interesting to point out about this design is the lighting. She noticed some plants needed more light. So she installed an LED grow light on the ceiling above the green wall to better reach all the plants on the wall.
This wall is also different in that the soil and plants are placed in gutters that are attached to a plywood panel mounted on the drywall of her home. Since some of the plants would eventually hang down lower and longer, she intentionally left a good amount of paneling space between the gutters.
She created a semi-automatic watering system with an attached discrete hose, a tubing system that transports water to each subsequent gutter, and a gauge to indicate water levels. She can simply turn it on or off as needed.
And then the most important part of the wall, the plants. Over the years, she noticed some varieties worked better than others. Philodendrons, pothos, aglaonema, ctenanthe, calatheas, zamoculcas zamiifolia and dracaenas worked best in this case.
Vertical Gardening Basic Components
Each garden is unique and tailored to a specific area, climate, and taste.
Of course, which plants work best will vary by environment, whether you want an indoor or outdoor vertical garden, season, amount of light, how much maintenance and attention you can give to the garden, and what specific purpose or look you are shooting for.
As unique as they all are, they each have these basic components:
1. Module or structure to serve as the base.
This can look different from design to design.They are all attached to a wall or vertical module of some sort. They all consist of some form of paneling that forms the base that will serve as the skeleton for things such as the felted pockets, soil, plants themselves, and even pipes (in the case of sub-irrigated plant walls.)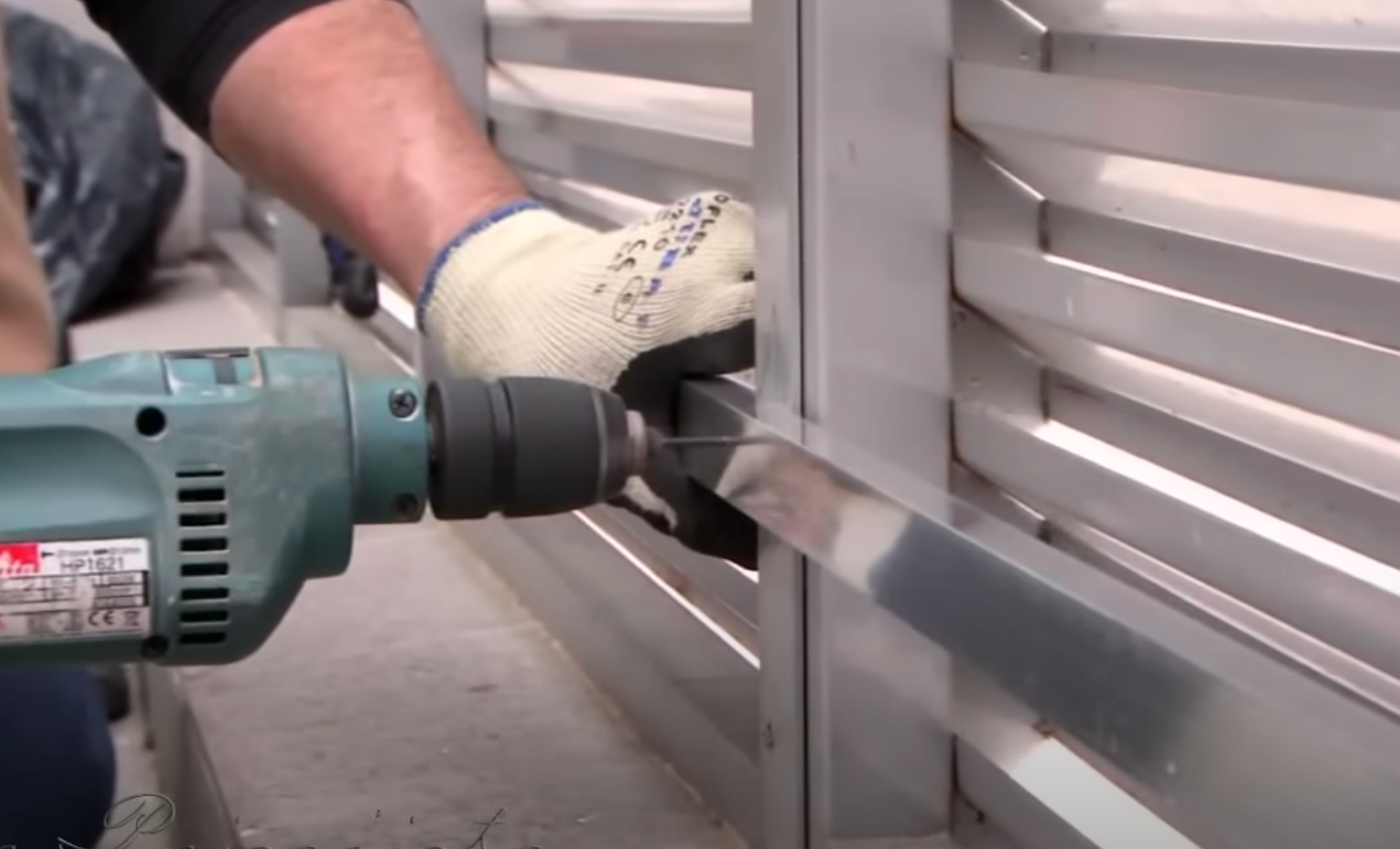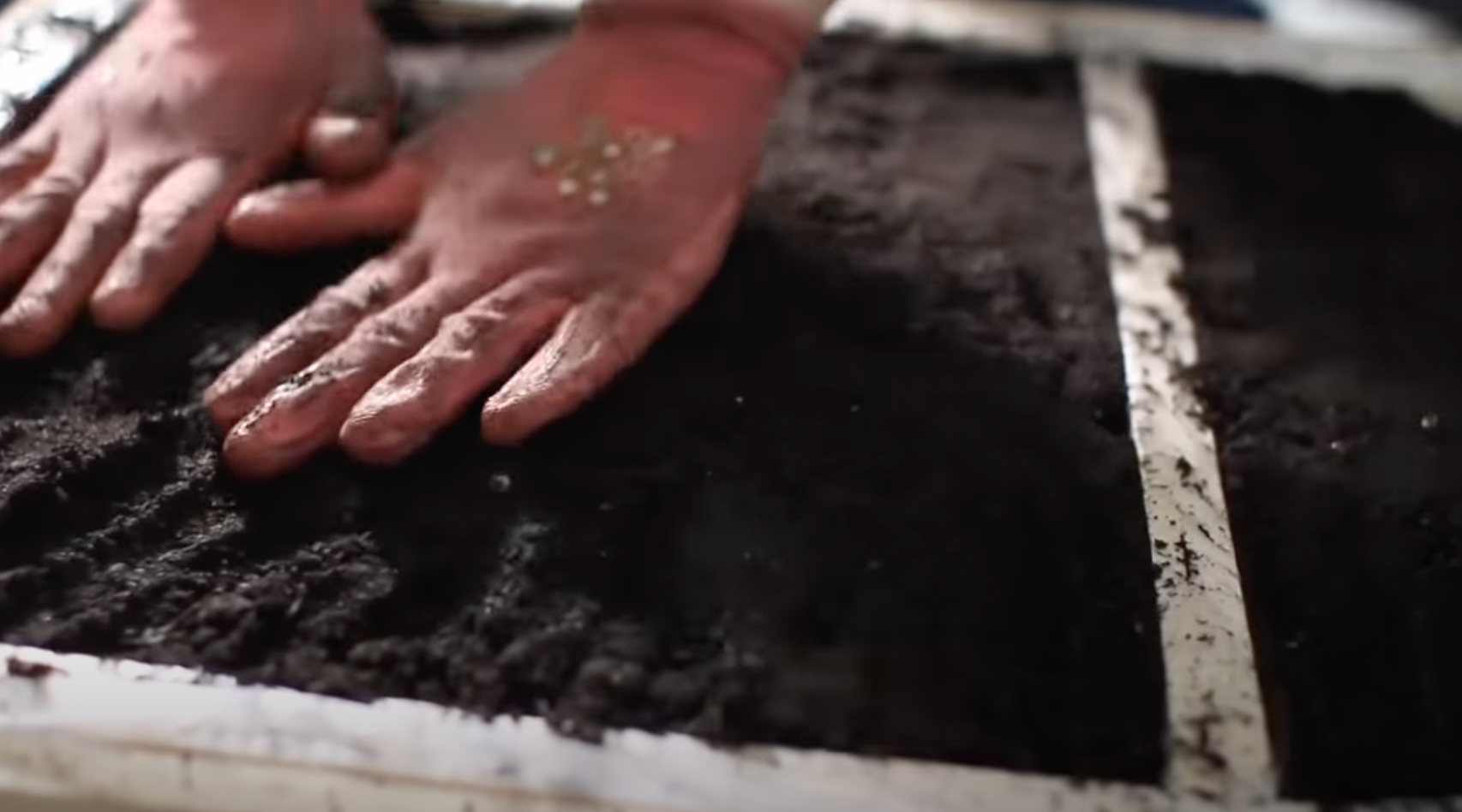 2. Fabric to hold the plants and the soil or substrate in place.
This can be pre-fabricated fabric panels with pockets. These can typically be drilled directly onto walls.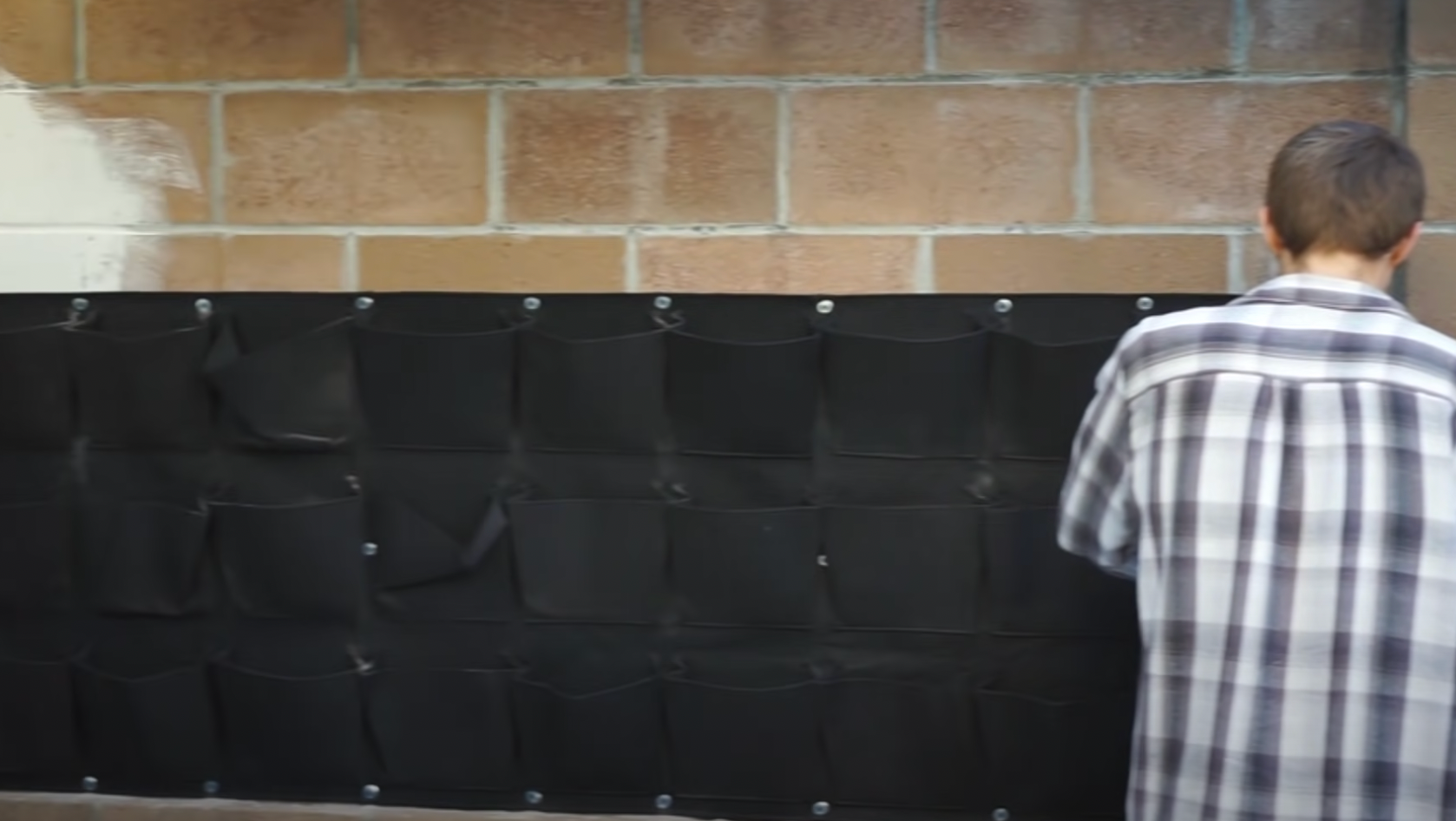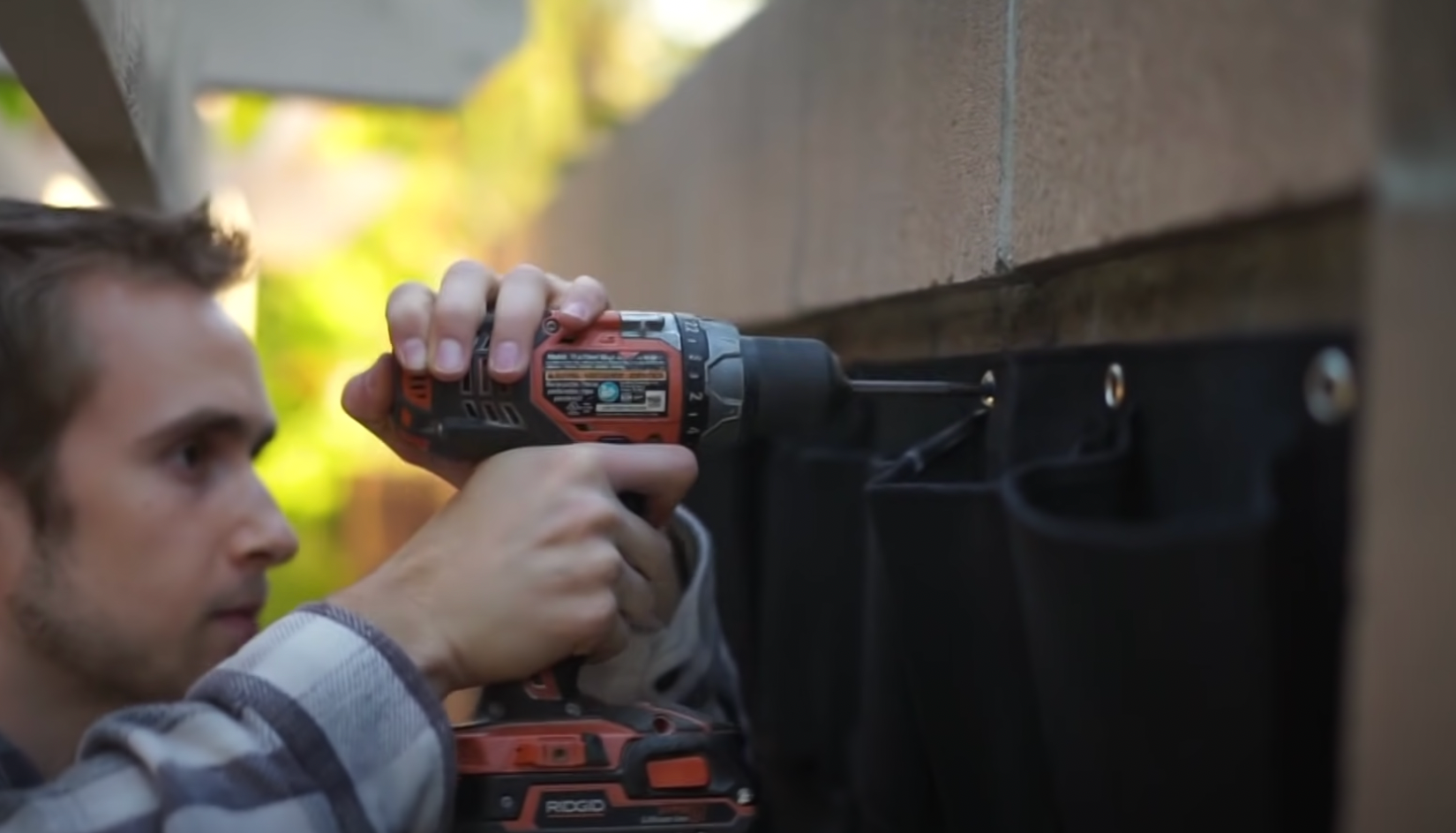 This could also be yards of fabric that can be attached to the skeleton or body of the garden. This fabric can then be cut to form pockets into which you can stuff the soil/substrate and the plants.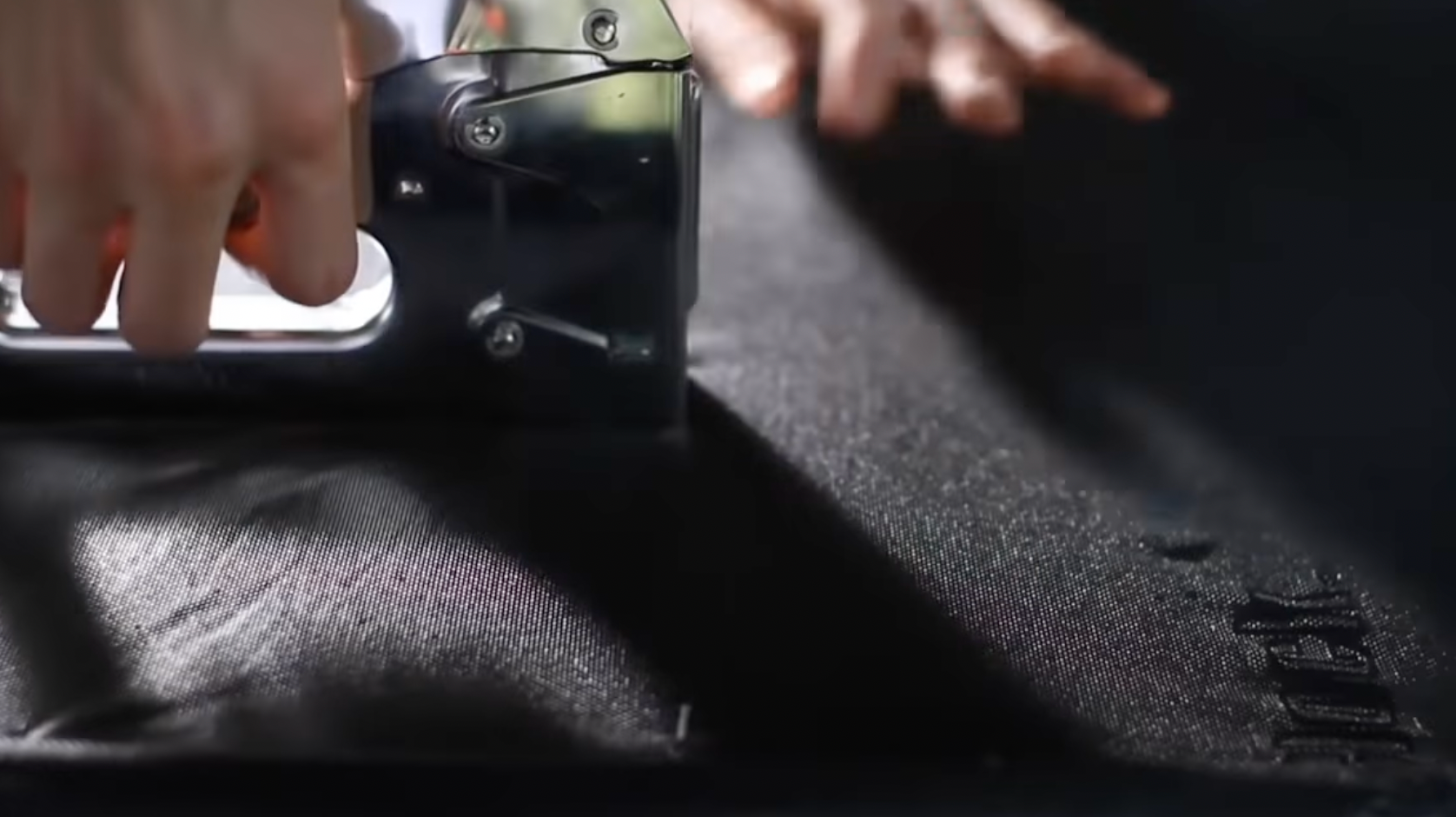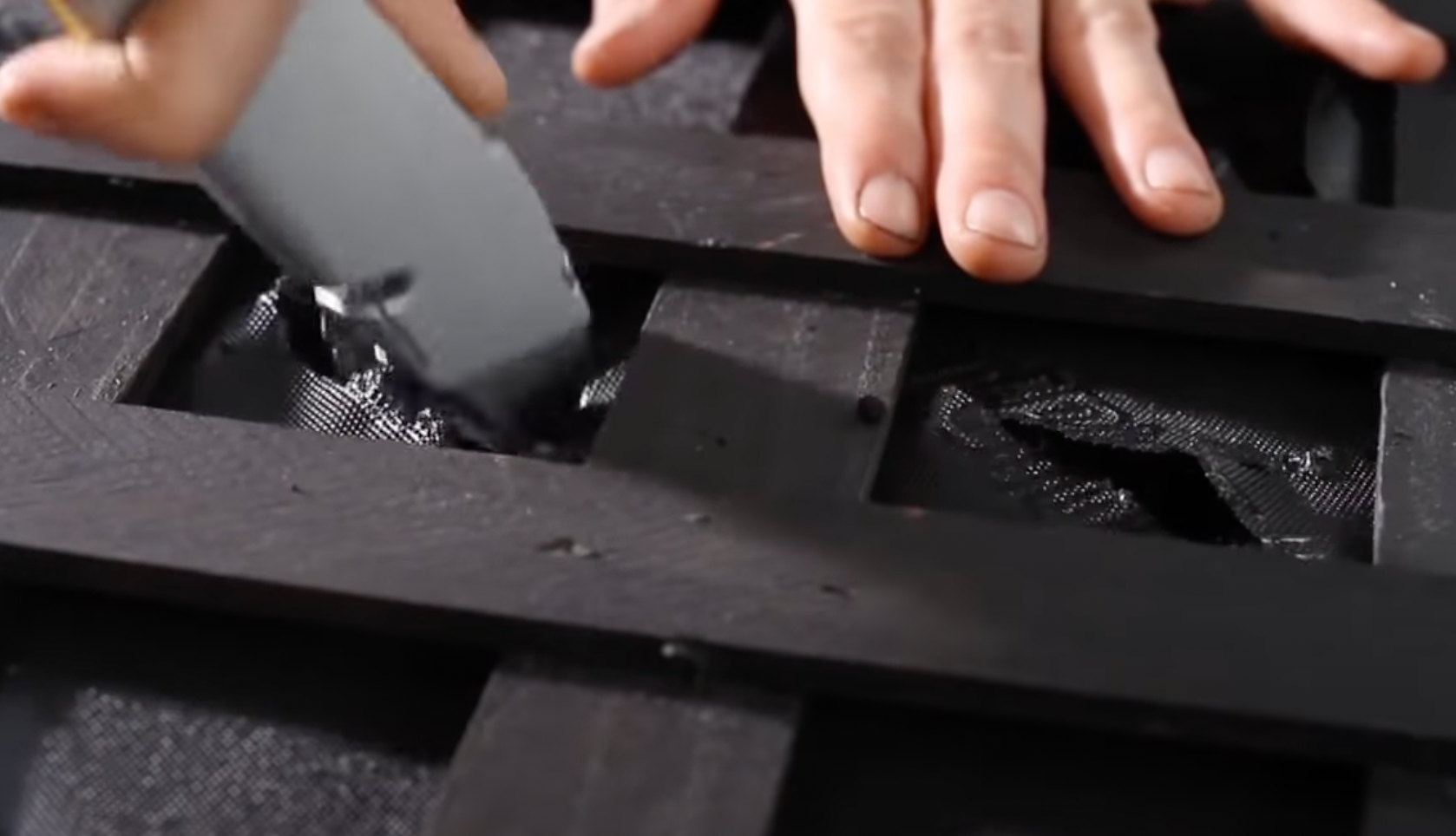 Or this could also look like felted pockets, sacks, or containers for individual plants that are placed into gutters attached to wooden panels mounted on drywall.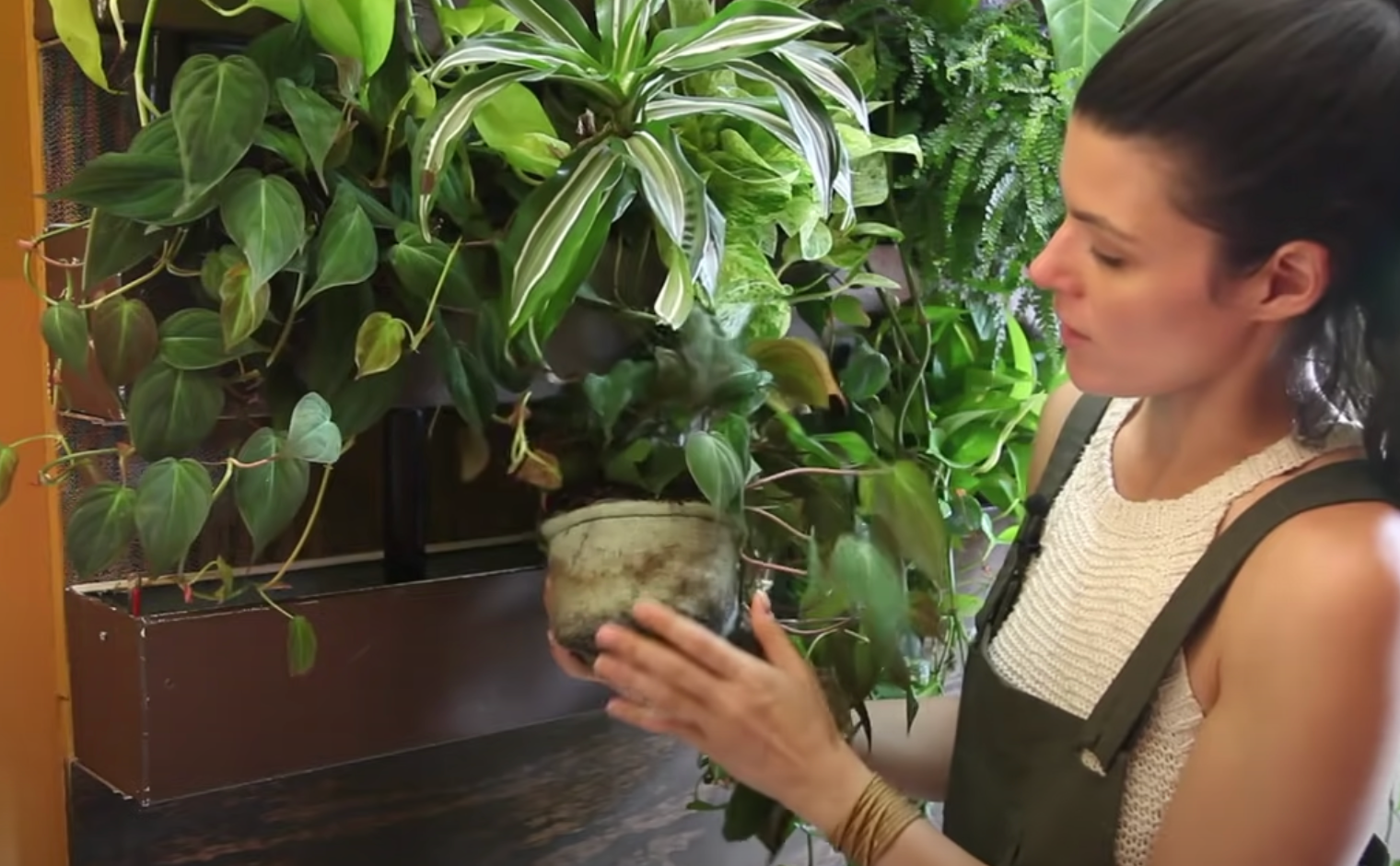 3. An efficient way to water consistently.
Depending on the type of vertical garden you have, watering will work differently. For the simplest outdoor vertical gardens, like plant pocket panels, you can water the panels and plants with a hose, since the water will simply flow down to the ground and be evaporated or drained.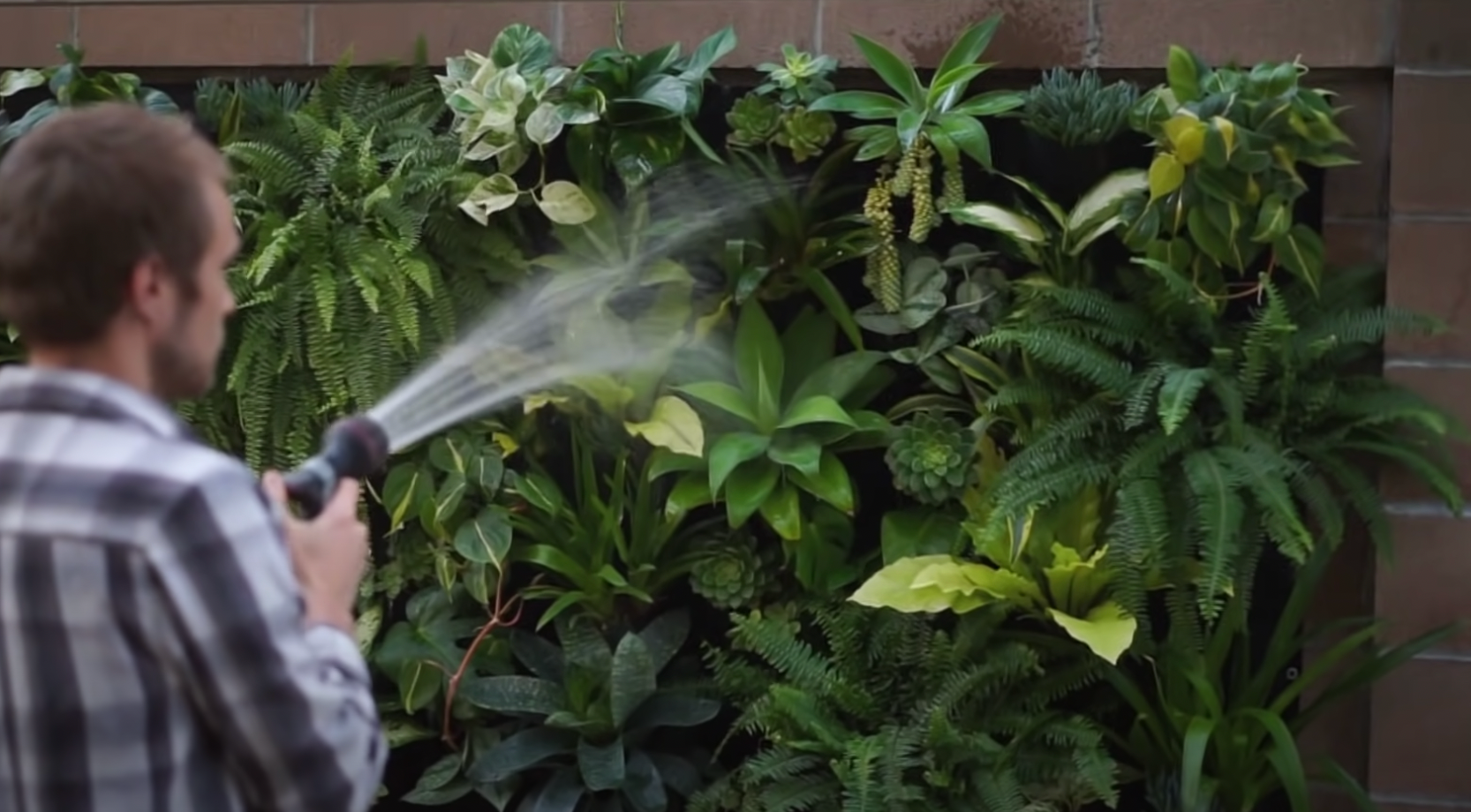 Other vertical gardens have more intricate PVC piping and watering systems, with multiple layers of fabric that absorb water and pass it along slowly to the substrate so that no water goes to waste.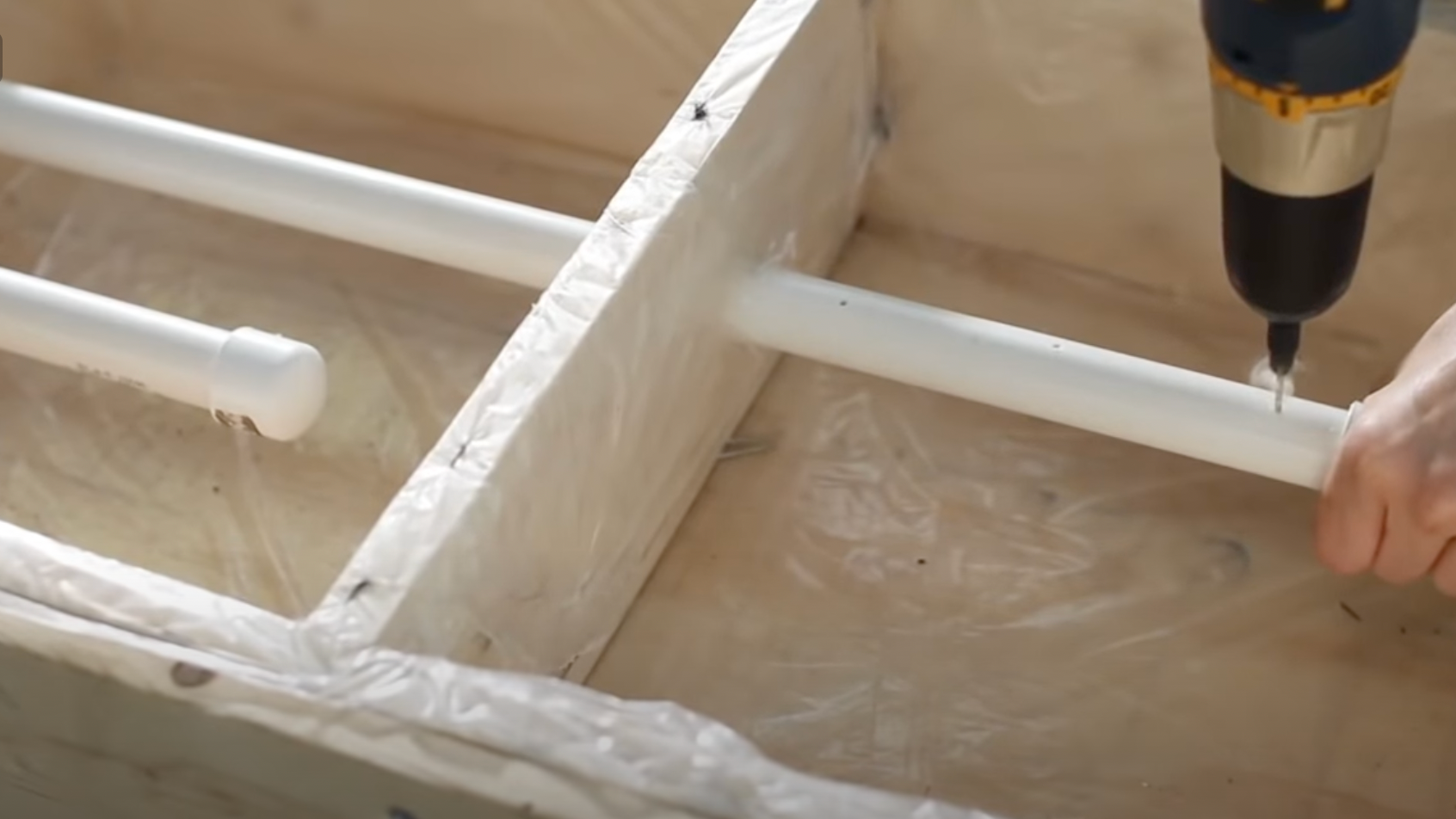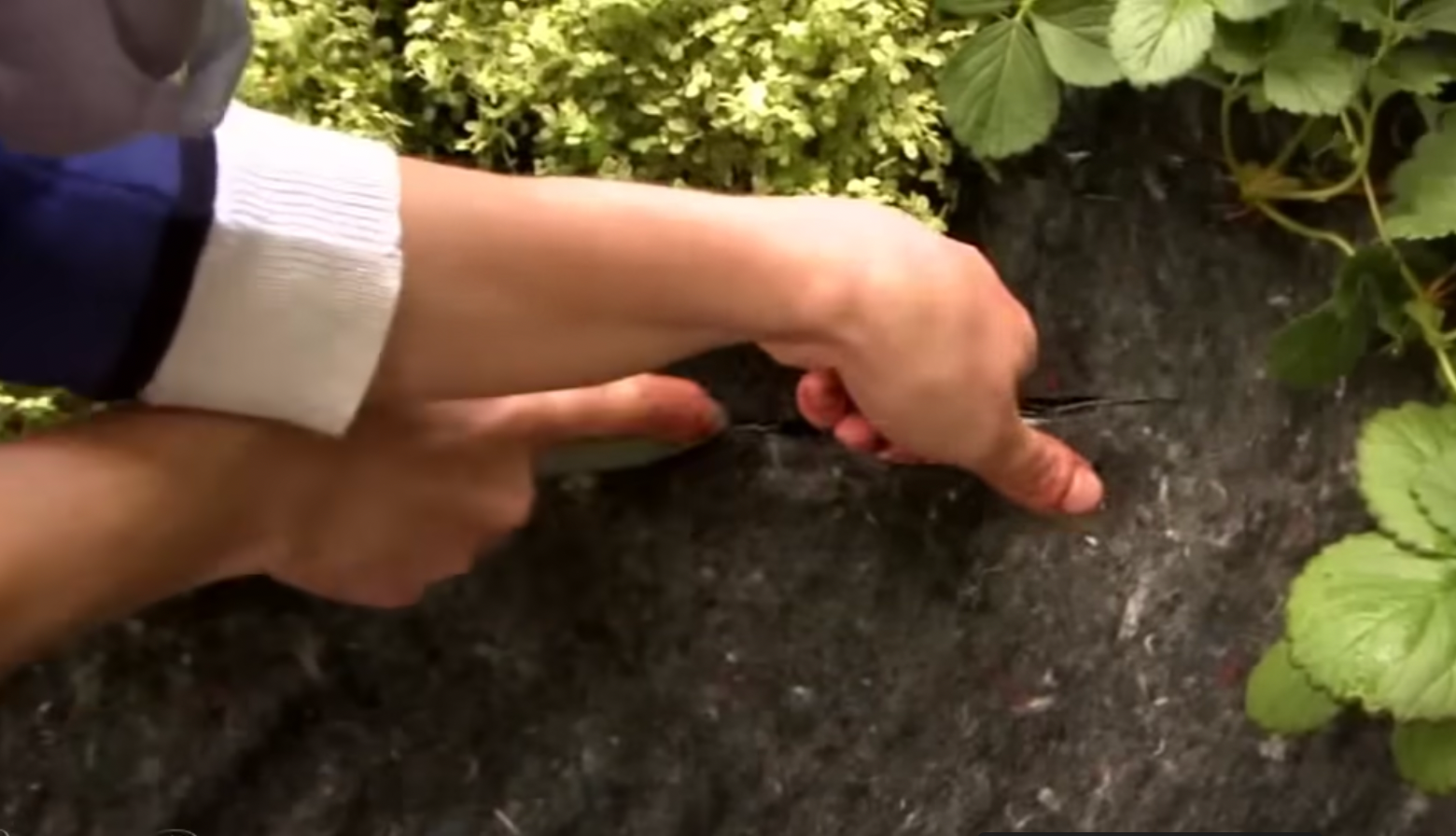 And other watering systems, like those for indoor plant wall gutters, can be semi-automatic, with a slow and progressive flow to each gutter, and semi-permeable membranes within the gutters that allow slow absorption of water for plants in individual felted bags. This way of transporting water works more efficiently than direct watering, without weighing down the gutters.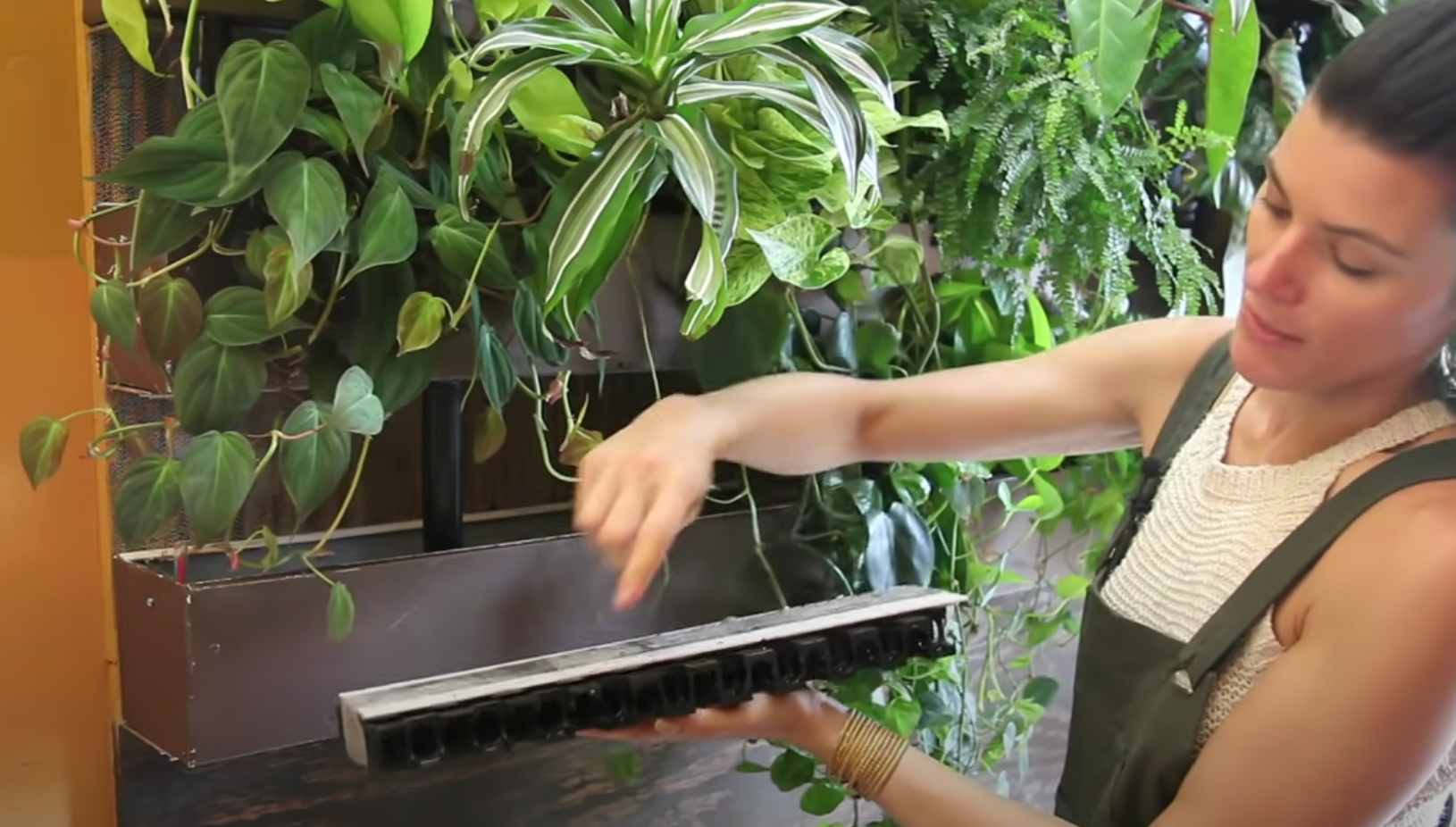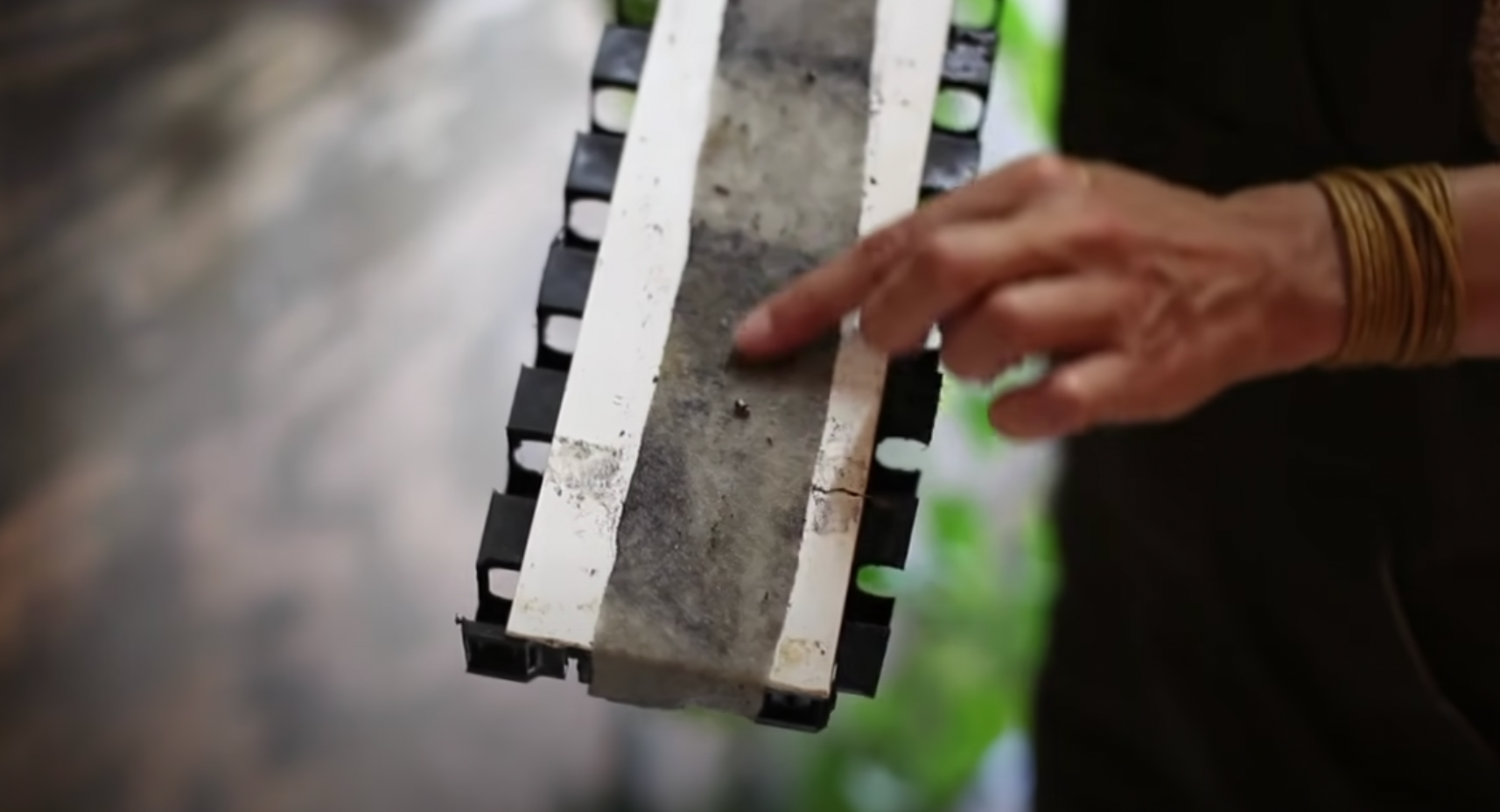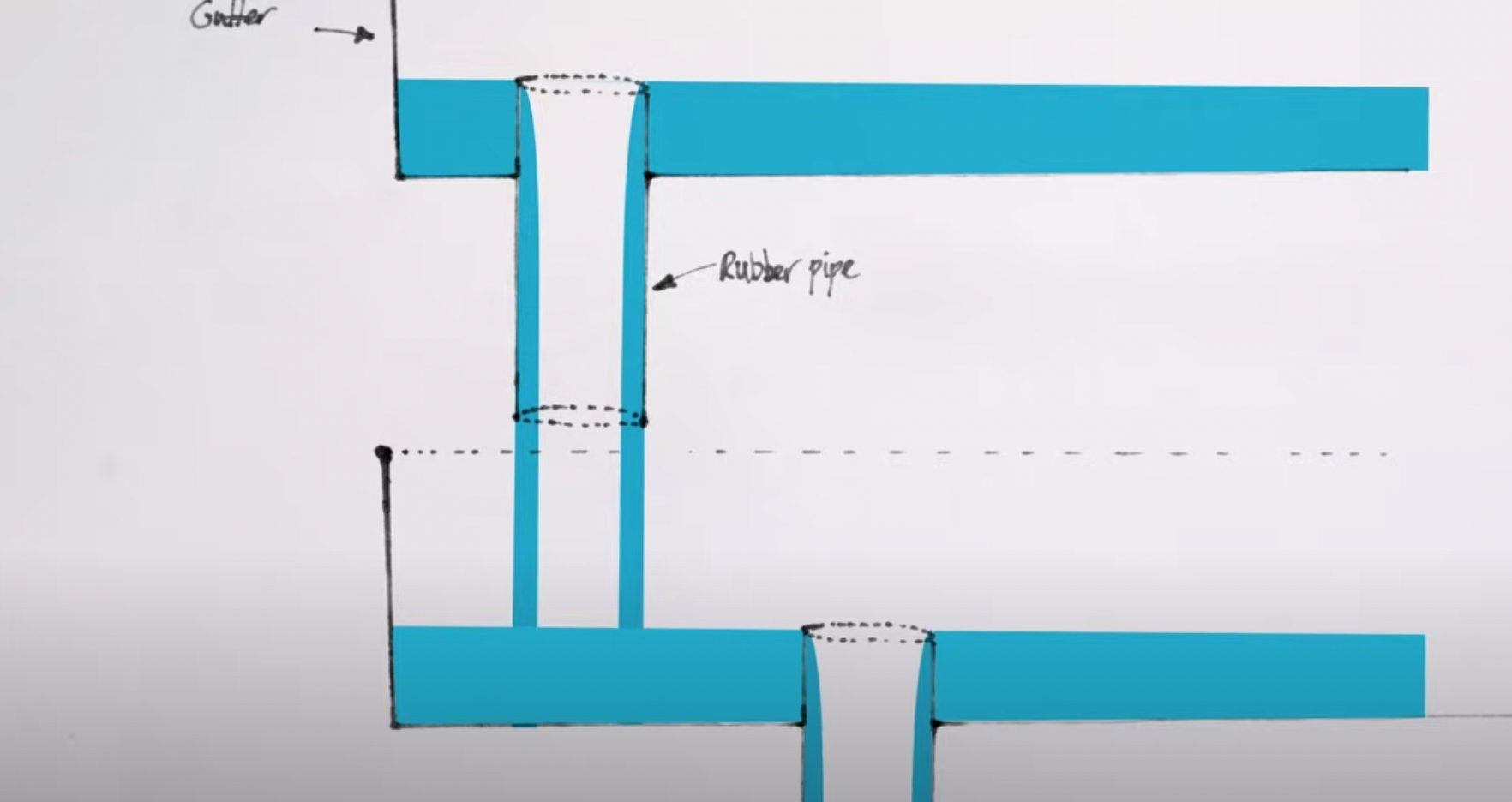 What plants are best for vertical gardens?
How can you choose plants that will thrive in your vertical garden? Below we'll discuss the differences between climbers and non-climbers giving you examples of which would be the best vertical garden plants.
Climbing plant examples
Climbing plants grow on long tall stems and grow to maturity. These plant species can cover your garden pergola, arbor, obelisk, or other plant-supporting structures.
Some common climbing plants include morning glories, clematis, bougainvillea jasmine climbing roses, honeysuckle, or sweet pea.
As for vegetable plants; beans, cucumbers, and peas are also available in vining varieties.
Vertical Container Plants (Non-Climbers)
There are tons of beautiful, non-climbing vertical gardens available for sale today. You can add vertical containers like wall pockets or picture frames in a garden.
Often, plants like ferns are available in smaller sizes especially suited for growing in pots. Use small plants to grow in the vertical garden.
Non-Climbing Plant Examples
Several climbing veggies such as beans, tomatoes, cucumbers, peas, and pumpkins grow in bush forms that are perfect to grow in containers. A variety of other vegetables can grow in the vertical gardens in pots too.
Some preferred non-climbing flowers are marigolds, pansies, celosia, moss roses, begonias, orchids, petunias, impatiens, and dwarf zinnia. And succulents can also make ideal vertical garden plants.
List of Best Plants for Vertical Garden
A decorative plant wall is a great way to improve the ambiance and quality of air circulation in your home or office.
Some people are interested in creating something more practical, like a vertical herb garden or edible garden that can be grown hydroponically.
Others might be looking to combine both the decorative and the functional elements.
There are a variety of plants that would make excellent vertical garden plants and suit your needs and preferences.
Best Ornamental Plants
Good ornamental options for vertical gardening include climbing plants, hanging plants, perennial vines, compact varieties of bush plants, and flowers with short stems.
Some examples are:
Pothos (Devil's Ivy)
Philodendron
Festuca
Ophiopogon
Pieris japonica (Japanese Andromeda)
Selaginella
Dracaenas
Asparagus plumosus (Common asparagus fern)
Zamoculcas zamiifolia (Zanzibar Gem)
Best Edible Plants
Edible plants that will adapt well to vertical gardens include fruited vine species and edible flowers. Some examples include:
Mint and other herbs.
Tomatoes and peppers.
Garlic.
Strawberries, kiwis, and gooseberries.
Vining nasturtium and other edible flowers.
Conclusion
Transforming a dull urban patio or small indoor area into something beautiful and green everywhere – a little nook where you can eat, read and rest – is not easy.
You have to put a lot of love into it, and a lot of creativity, but it can most certainly be done.
Vertical garden installation near me.
Our hope is that our vertical gardening guide has made you feel more inspired.
Call us if you want a vertical garden installed in DFW.
We can design and create the perfect vertical garden for you.
We are trained vertical gardening professionals. We are the only landscaping company in Texas with knowledge of a unique method for vertical garden design developed in Colombia that is becoming more popular in countries all over the world.
Vertical gardens will be a growing trend in landscape design.
We've got the information and tools necessary to make it happen for you before the industry demand jacks up the price.
We are here to serve, and we can offer assistance with vertical gardening, selecting vertical garden plants, plant wall installation for indoor and outdoor areas, vertical gardening maintenance, landscape design, hardscape design, and all other landscaping needs.
Want to get started on your vertical garden?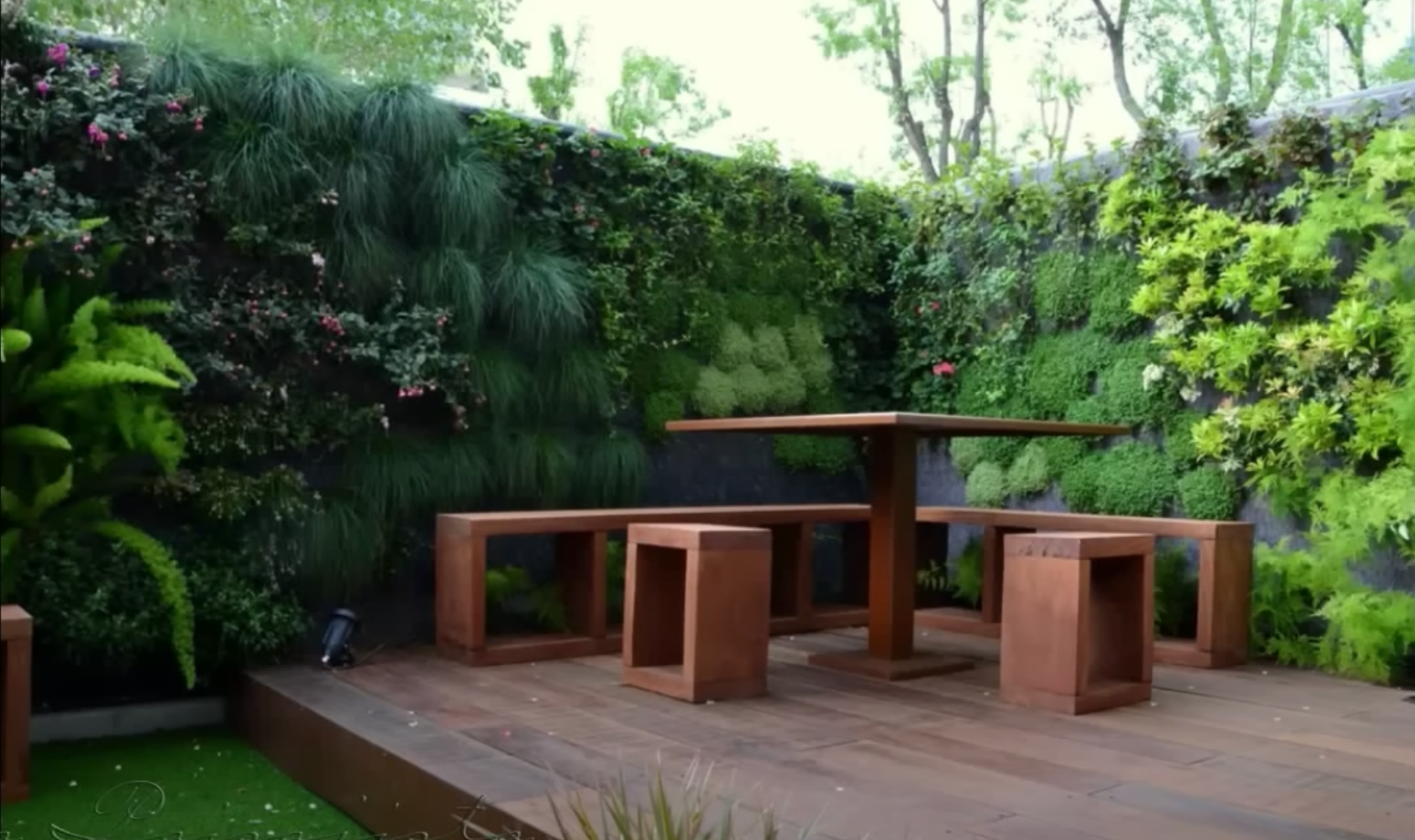 Contact High Quality Landscape Services for a free quote.
Service Areas
Dallas │ Richardson │ Highland Park │ Addison │ Farmers Branch │ Plano │ Allen │ Frisco