Vertical gardening has become increasingly popular in recent years due to its aesthetic appeal and space-saving benefits. We offer comprehensive vertical installation and maintenance services for residential, commercial and government locations in DFW. (Click here to view our service areas.)
Our professional design services create custom living walls that fit your needs. We provide installation and maintenance services to ensure your plant wall stays beautiful for years. Our experienced team of landscape professionals can help you create the perfect indoor or outdoor space for your home or business.
We use only the highest quality materials to ensure your vertical garden stands the test of time.
Our vertical garden installation services offer a unique way of adding beauty and character to your property. We understand that each property has its own unique requirements, so we take a customized approach to ensure you have the perfect living wall system for your environment.
Our experienced vertical garden installers will work with you to choose the best plants and materials to create a stunning plant wall. Then, our team will provide ongoing maintenance, including watering, pruning, fertilizing, and more, to ensure your vertical garden remains vibrant and healthy.
We are dedicated to creating beautiful landscapes and providing you with exceptional service. Call on us today to experience the High Quality advantage.
Cost-effective Living Wall System
With the introduction of fabric panel vertical gardening, the benefits of living walls have become even more pronounced. A fabric panel living wall system offers a range of advantages – from the ease of installation to low maintenance – that make them an attractive option for gardeners of any skill level.
Simple Living Wall Systems
The flexibility of fabric panels makes them ideal for almost any indoor or outdoor space. The panels can be cut to fit any area, making it the easiest way to customize the design of the vertical garden system. Installation is also incredibly simple, as the panels can be hung from a wall or ceiling with minimal effort. Plus, the fabric panels are light and easy to move, so you can rearrange your garden any time you want a new look.
Self-Watering Vertical Garden System
In addition to their ease of installation, fabric panel vertical gardens are a great choice for low-maintenance gardening. The fabric panels are designed to wick water from a reservoir at the bottom of the panel, allowing the plants to draw up the water they need. This eliminates the need to water manually, saving time and effort. Not only are fabric panel vertical gardens low-maintenance and easy to install, they also offer a range of aesthetic benefits.
Mounting an Indoor Vertical Garden
Living walls are a creative and visually appealing way to grow plants on a vertical surface. They can be made using various materials, including discrete fabric panels and mounted wooden frames, making them a flexible and customizable option for any space. They are a great way to add a splash of color and greenery to a small space, and they can also help to purify the air in your home or outdoor area.
A Pop of Color and Air Purifying Benefits
Not only do vertical gardens add a pop of color and greenery to your home or outdoor area, but they also have numerous benefits for the air-quality in your home. These gardens can help to purify the air by removing pollutants and increasing the amount of oxygen in the air. They can also help to reduce noise pollution and provide additional insulation for homes.
Gardening Solutions for Small Spaces
In addition to their aesthetic and air-quality value, vertical gardens are also a great way to save space. Whether you live in a small apartment or have limited outdoor space, a living wall system can help you grow a variety of plants without taking up valuable real estate.
Grow Your Own Herbs and Vegetables in Your Kitchen
A home cook can make use of a vertical garden in many ways. They can grow fresh herbs and vegetables such as tomatoes, peppers, herbs, and lettuce, or even flowers. This can be done either on a balcony or inside the home, as long as there is enough light and water. Home cooks can also use vertical gardening as an edible decoration to their meals, adding a splash of vibrant colors and flavors. It can also be used to grow exotic fruits such as kiwi, passionfruit, strawberries and other plants which can be used to make unique and interesting dishes.
A small fabric panel vertical gardening unit can be the perfect thing to grow fresh herbs at home. Vertical gardens, moss walls, and other living wall systems are a great way to maximize space and make the most of small areas. They can be used to grow a variety of herbs, such as basil, oregano, rosemary, and thyme. Additionally, some living walls come with a hydroponic system, which allows for efficient water usage and helps to ensure optimal growth.
Vertical Garden Installation Near Me
Transforming a dull urban patio or small indoor area into something beautiful and green everywhere – a little nook where you can eat, read and rest – is not easy. You have to put a lot of love into it, and a lot of creativity, but it can most certainly be done. Our hope is that you feel inspired to have your own vertical plant wall. Call us if you want a vertical garden installed in DFW. We can design and create the perfect one for you.
We are trained vertical gardening professionals. We are the only landscaping company in Texas with knowledge of a unique method for vertical garden design developed in Colombia that is becoming more popular in countries all over the world.
Vertical gardens will be a growing trend in landscape design. We've got the information and tools necessary to make it happen for you before the industry demand jacks up the price.
We are here to serve, and we can offer assistance with vertical gardening, selecting vertical garden plants, plant wall installation for indoor and outdoor areas, vertical gardening maintenance, landscape design, hardscape design, and all other landscaping needs.
Commercial Vertical Garden Installation Services Contractor for Office and Hotel Lobby Areas
Transform your business or home into an oasis of green with our commercial vertical garden installation services. Our experienced team of professionals will design, install and maintain your living wall systems to create a stunning, vibrant living wall that will bring life and beauty to any space. With our custom solutions, you can create an eye-catching display that will draw attention and make a statement. Contact us today to discuss your project and get started on creating a living wall that will be the envy of the neighborhood.
Vertical gardens are a unique, low-maintenance way to bring life and beauty to your commercial space. Our experienced team will create a lush green wall of plants with minimal effort on your part. With our vertical garden installation services, your business will be transformed into a vibrant and inviting space that will wow customers and employees alike!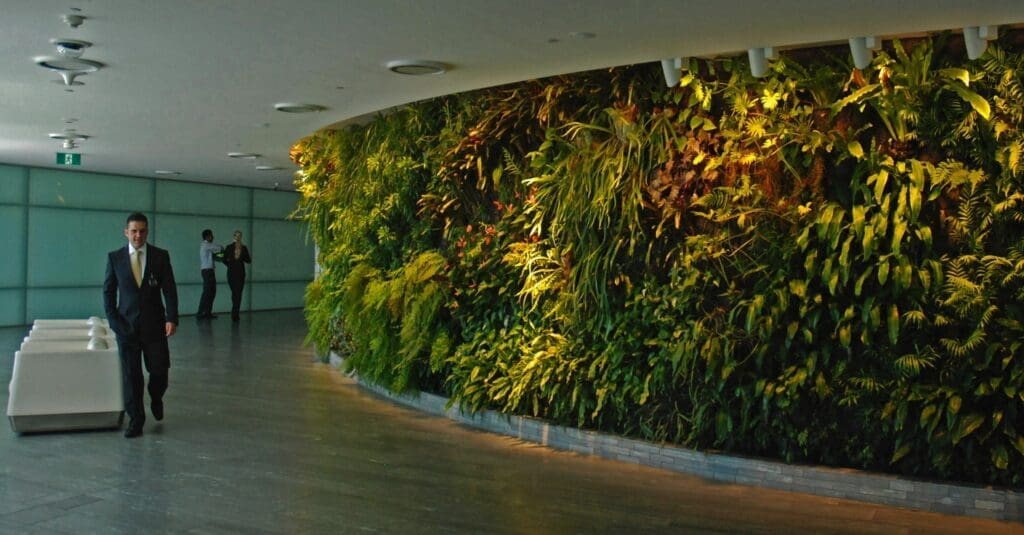 Achieving the Perfect Living Wall System with High Quality Landscape Services in DFW
High Quality Landscape Services in DFW is committed to providing the best service for all your living wall system needs. We specialize in the installation and maintenance of living walls, as well as provide full root ball and plant delivery services. Our team of experts can help you search for the perfect location to install and enhance your living wall, as well as provide and install an appropriate irrigation system to keep your plants healthy and hydrated with the right amount of moisture.